• Jo Ann Pflug is a former popular American actress and TV and radio host
• Born in Atlanta, Georgia and raised in Winter Park, Florida
• Had her own weekly radio show and was the first female to have her own talk show on TV
• Refused roles that required nudity and played roles in shows such as MASH, The Dukes of Hazzard, Charlie's Angels, and Fantasy Island
• Has a net worth of around $5 million and owns a luxurious mansion in Tequesta, Florida with her husband
 
Jo Ann Pflug is a former popular American actress and TV and radio host. She had a successful career in the entertainment industry, but quit in the late '90s to live a calm life and host her own weekly radio show. Let's find out what she is doing now, what her net worth is now, etc.
Early life and family
Jo Ann Pflug was born on 2 May 1940, in Atlanta, Georgia USA, so under the sign of Taurus and holding American nationality. Her mother was Kelly Pflug, and her father J. Lynn Pflug was a politician and had a very successful career. Their family had to move to Winter Park, Florida, so he could pursue his political career, and Jo Ann was raised there.
Posted by Jo Ann Pflug on Tuesday, October 18, 2011
In 1958 J. Lynn Pflug was elected as the mayor of Winter Park, and his family enjoyed their privileged life in Florida. Jo Ann has a brother, whose name is unknown.
Educational background
Jo Ann matriculated from Winter Park High School in 1958, and entered Rollins College to study broadcasting. After that she also graduated from the University of Miami with a BA in broadcasting, also having a minor in American history.
Radio career
Jo Ann had her own weekly radio show entitled "The Magic Carpet" – she held the role of the storyteller. She was also the hostess of the live interview talk show "Montage", which went on air every week; she worked on both for four years.
Jo Ann's interviewing skills were very impressive and were soon noticed by TV authorities, which helped her to become the first female to have her live weekly talk show on TV, in the late '60s. Her talk show was set in Los Angeles and was on air on KHJ-TV (former "Channel 9").
Movie career
First steps
Jo Ann started appearing in TV series and sitcoms from the early '70s. She had minor roles in such series as "The Beverly Hillbillies" (1962 – 1971), "The Big Valley" (1965 – 1969) and "Fantastic 4" (1967 – 1968), in which she played and voiced over the character of the Invisible Girl. However, her first major role helped her to get to a new level of acting: she was invited to play the US Army nurse, Lt. "Dish", in MASH (1969).
Her performance in this movie left a very specific impression, as she demonstrated not only her talent, but her sexuality. Though the critics were all positive about her performance and the movie in general, she had to turn down many roles which rained down on her. She had to turn down the role of Montana Wildhack in "Slaughterhouse-Five" (1972), and the role was taken by Valerie Perrine; Jo Ann also turned down the role of Ann Romano in "One Day at a Time" (1975–1984) which was later given to Bonnie Franklin, though Jo Ann never explained the reason for her decision.
Further success
A lot of her colleagues didn't understand why Jo Ann was turning down so many roles, though she was uncompromising: 'After MASK, I was sought to do nudity. All nude roles. And I turned down a lot of pictures because of the nudity. I would not do nudity because of my upbringing. I'm not going to wait 30 years from now and have my children saying, 'oh, there's mommy on the screen, nude.' I don't think so'. Nevertheless, she started getting more appropriate offers for other projects, and finally had a chance to forget about the apparent necessity to appear nude on screen.
She played the role of Eva Mueller in the "McCloud" series (1970 – 1977), Barbara Kay in "Charlie's Angels" (1976 – 1981) and Caroline Taylor in "Fantasy Island" (1977 – 1984).
Later works
By the end of her acting career, she had appeared in many high rating TV series. Thus she played Helen Hogan in "The Dukes of Hazzard" (1979 – 1985), Samantha "Big Jack" Jack in "The Fall Guy" (1981 – 1986), and also appeared in the role of Nina Jurgenson in the series "Knight Rider" (1982 – 1986), sharing the screen with David Hasselhoff and Edward Mulhare. Her last works before she quit acting were "Traveller" and "Midnight in the Garden of Good and Evil", both in 1997.
The life after acting
Jo Ann was in friendly relationships with the Boones, Pat and Shirley, who were not only the family of popular singers, they also hosted Bible studies in their mansion in Beverly Hills. The studies were attended by such stars as Priscilla Presley (Elvis Presley's ex-wife), Zsa Zsa Gabor, Doris Day and Glenn Ford. Jo Ann was also on the list of welcome guests in the Boones house. She was baptized in their swimming pool, and became the "a born-again believer" (meaning the process of spiritual rebirth). Up to this day, Jo Ann is touring around the US with her motivational seminars, and training sessions on etiquette for business professionals and children.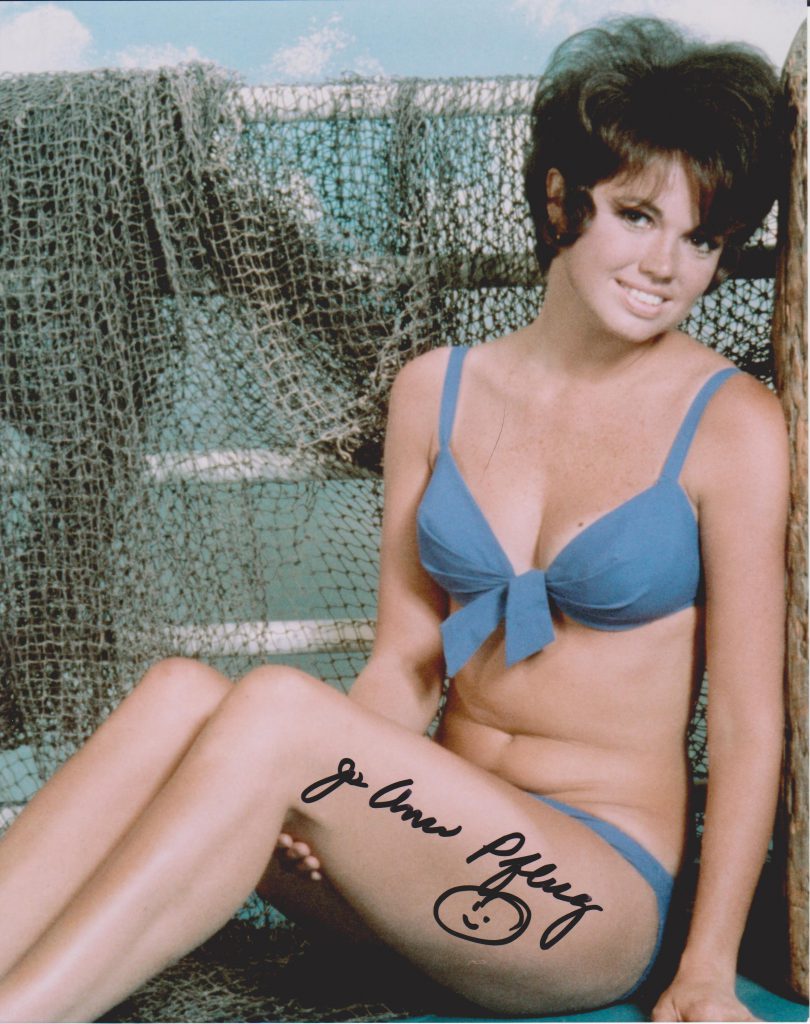 Personal life, husband Charles Stuck Young
Jo Ann has married twice: on 21 December 1972 she married popular American actor Chuck Woolery, best-known for his roles of Mr. Thompson in "Love, American Style" (1969 – 1974) and Victor Spivak in "The Treasure of Jamaica Reef" (1974), and for hosting the legendary TV games "Wheel of Fortune" (1975–1981), "Scrabble" (1984–1990) and "Greed" (1990). After giving birth to their only daughter, Melissa Woolery, Jo Ann and Chuck divorced in 1980. Melissa stayed mostly with her mother; Jo Ann often took her to various events, such as fashion shows and museum exhibitions.
Thus on 8 March 1984 they attended Third Annual Celebrity Mother & Daughter Fashion Show held by the Young Musicians Foundation at Beverly Hilton Hotel (Beverly Hills, California). Photographer Ron Galella took a picture of Jo Ann weaving a lilac ribbon in Melissa's hair before the show.
Jo Ann eventually married Charles Stuck Young on 14 May 1988; they haven't had any children; they are still living together in their mansion in Tequesta, Florida.
Social media presence
Jo Ann is far from being active on social media platforms. She used to have a Facebook page, but after several posts in 2011 she abandoned it. She doesn't have Instagram or Twitter accounts, however, she has her personal site launched in 2001, on which one can find a gallery of her old photos, and some information about her career.
Appearance, clothing style
Jo Ann has long dark brown hair and hazel eyes. She is 5ft 8ins (1.73m) tall and weighs around 154lbs (70kgs); her vital statistics are not available.
#HappyBirthday to #JoAnnPflug, perhaps best known on television for her role as Samantha 'Big Jack' Jack on #TheFallGuy, btd 1940. pic.twitter.com/ZCNtoRYOyl

— Silver Age Television ? (@SilverAgeTV) May 2, 2019
As to her clothing style, she always prefers classy feminine looks and enjoyed the fashion of '70s, wearing big wigs and colorful makeup.
Net worth and salary
According to authoritative sources, Jo Ann accumulated a net worth of around $5 million during her acting career. However, after quitting the entertainment industry, her net worth is only enriched by her regular seminars and trainings. It is hard to say how much money she makes nowadays. However, she owns a luxurious mansion in Tequesta, Florida along with her husband Charles Young, which is a worthy investment. The value of the mansion hasn't been revealed yet.