A 29-year-old woman from Israel had to undergo surgery to remove a crystal vibrator from her bladder after accidentally inserting the approximately 10 cm long and 2.5 cm wide object into the wrong hole.
The case was reported by doctors at Shaare Zedek Medical Center, in Jerusalem, in an article published this month in the journal Urology Case Reports.
Upon arriving at the emergency room, the young Israeli complained of abdominal pain and discomfort when urinating. She said she had mistakenly inserted the sex toy into her urethra during intercourse. The urethra carries urine from the inside of the bladder out of the body.
An ultrasound examination and X-ray showed that, after passing through the urethra, the object ended up positioning itself horizontally in the girl's bladder.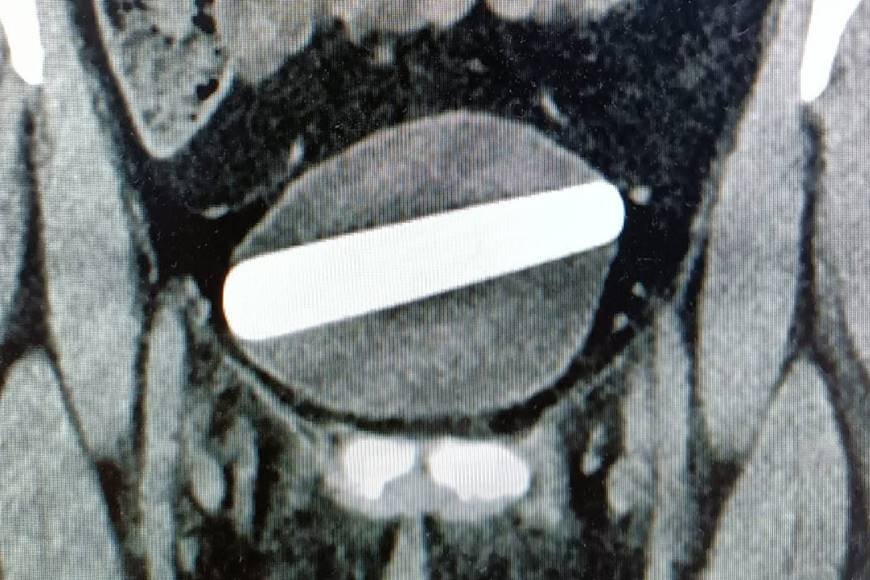 Crystal vibrator stuck in the bladder
0
Removal
The patient was given intravenous (in a vein) antibiotics and underwent a cystoscopy, a procedure done with a small camera attached to a wire inserted through the urethra. The apparatus showed that the vibrator caused pressure on the lateral wall of the bladder.
Still in the article, the doctors say that the patient was anesthetized and underwent surgery to remove the dildo with a surgical tool introduced through the urethra. She was discharged the same day after it was found that she was urinating normally.
"Total removal and complete clearance are the main methods in the management of this case to avoid the risk of further bladder injury," the doctors wrote.
Get news from metropolises on your Telegram and stay on top of everything! Just access the channel: https://t.me/metropolesurgente.