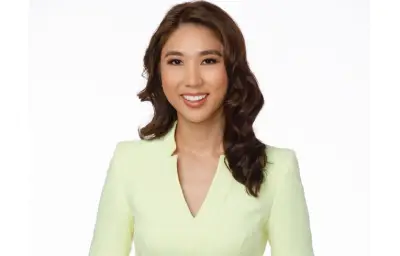 Janice Yu Biography and Wikipedia
Janice Yu is a Korean-American journalist currently working as a news reporter at ABC7 Eyewitness based in New York. She joined ABC7, in August 2022. Before joining ABC7, she served as a reporter and fill-in anchor at FOX 5 in Atlanta, Georgia.
Janice Yu Education
Janice attended and graduated from The University of Arizona with a Bachelor of Arts in Journalism and Psychology. She also holds a degree in Journalism from Ewha Womans University.
Janice Yu Age and Birthday
How old is Janice? Janice is 30 years old as of 2023. She was born on March 17, 1993, in Seoul, South Korea and grew up in the United States. Her birthday is always celebrated on March 17th of every year. RELATED: James Fletcher
Janice Yu Nationality and Ethnicity
Janice holds dual nationality and citizenship of South Korean by birth and American. She was born in Seoul, South Korea. She belongs to the Asian-American ethnicity/heritage/ancestry.
Janice Yu Height
How tall is Janice? Yu stands at an average height of 5 feet 6 inches (1.68 m). Details about her other body measurements are currently under review.
Janice Yu Family | Parents
Janice was born in Seoul, Korea to Korean parents. Though, information regarding her family members including her mother, father and siblings is currently under review.
Janice Yu Husband
Is Janice married? Janice's information regarding her marital status is unknown. Unlike many media personalities, she is confidential when it comes to matters concerning her personal life.
Janice Yu Salary
Janice working as a news reporter at ABC7 Eyewitness News based in New York earns an estimated annual salary of $88,456. RELATED: Adrian Bliss
Janice Yu Net Worth
Janice is an American journalist, anchor and reporter with an estimated ent worth of $500k.
Janice Yu ABC7 New York
In August 2022, Janice became a reporter for the ABC7 Eyewitness News team. She expressed enthusiasm to work alongside a renowned team of skilled journalists.
Before joining ABC7, Janice was a reporter and occasional anchor for FOX5 Atlanta. While at FOX5, she covered a diverse range of topics such as breaking news, feature stories, the 2020 Presidential race, protests, the Atlanta and Cherokee County spa shootings, and the trial of the men convicted in the shooting death of Ahmaud Arbery.
Janice received her bachelor's degree in journalism from the University of Arizona School of Journalism, where she proudly chants "Bear Down!" She also worked as a reporter and anchor in El Paso and Amarillo and served as a breaking news anchor in her hometown of Tucson.
Despite her roots in desert living, Janice has ties to the New York area. Her husband was born on Long Island, and they have family in the region, making the move to the Northeast a chance to spend more quality time with loved ones.
Overall, Janice is a talented and experienced journalist with a passion for storytelling and a drive to excel in her field. Her diverse background and strong work ethic make her a valuable asset to any news team.